Découvrez les meilleurs paysages de l'Algarve avec nous par la mer. Différents types de voyages pour toute la famille.
Notre flotte est notre fierté, découvrez ce qui nous distingue, voyez toutes les caractéristiques de nos bateaux.
Notre équipe a des années d'expérience en mer, pour vous offrir une sécurité totale pendant votre voyage.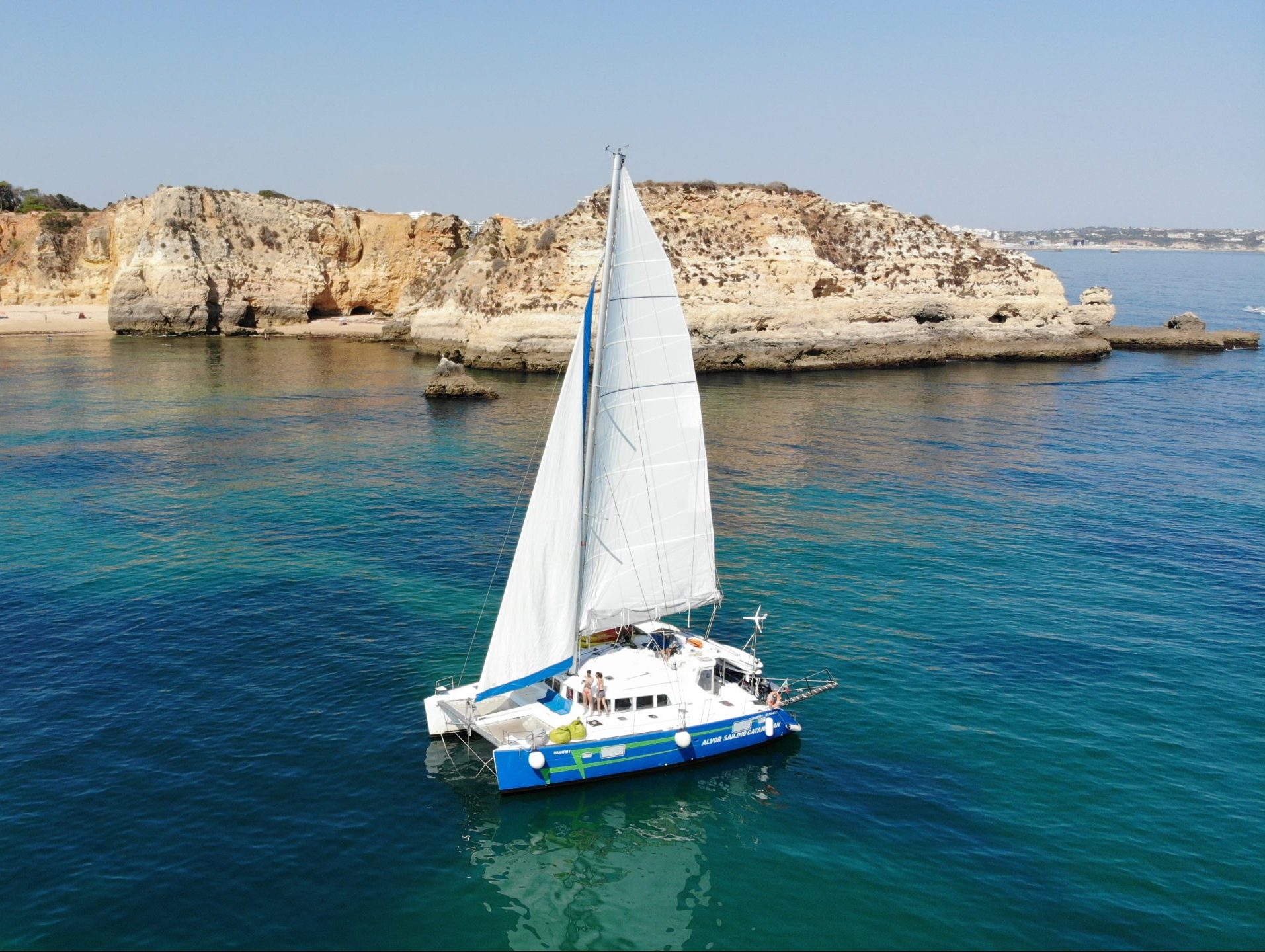 ALVOR
Alvor Sailing Catamaran
ALVOR SAILING
Notre Catamaran et nos bateaux rapides, disponibles pour vous offrir des tours inoubliables.
Une équipe professionnelle et expérimentée, pour garantir votre sécurité pendant toute la durée de votre visite.
Des tours différents pour chacun! Des croisières au coucher du soleil aux grottes les plus célèbres de la région de l'Algarve.
ALVOLSAILING
RÉSERVEZ VOTRE PLACE MAINTENANT !
NOS VOYAGES
Commentaires
CE QU'ILS DISENT DE NOUS
This is a definite if you go to Alvor, the Adventure cruise is brilliant, all the family loved it. We sailed along the coast, had an hour kayaking, got to go into the caves, we also went swimming off the catamaran. It was so relaxing and great value for money. I think the staff make it though, they are really welcoming and friendly, lovely people.
We chose the catamaran tour to the caves because of the children, 6 years and 10 months. Life Jacket is of course the skipper attentive, prudent and experience. An unforgettable experience for our big one and the little one was in a really good mood. We parents really enjoyed the ride too! Many thanks to the Alvor Sailing Team.
Would highly recommend to anyone staying in Alvor. Amazing 3-hour boat trip to caves, brilliant crew, clean catamaran (max of 18, so not crowded) and excellent service - you even get a complimentary drink and snack! Much better value than many similar tours. Highly recomended and great fun.
The best way to discover and truly appreciate the Alvor and Lagos coastline. Wonderful crew and exceptional vessel. Thank you so much for the excellent experience.
Had a really wonderful trip with Alvor Sailing Catamaran. I would absolutely recommend this trip. It is great value for money, and a wonderful experience. The crew looked after my parents so well. They were so helpful. The cave visit was truly magnificent and I will never forget swimming in the sea off the boat.