Descubra connosco pelo mar as melhores paisagens do Algarve. Diferentes tipos de passeio para toda a família.
A nossa frota é o nosso orgulho, descubra o que nos diferencia, veja todas as características dos nossos barcos.
A nossa equipa conta com anos de experiência no mar, para lhe proporcionar toda a segurança durante o seu passeio.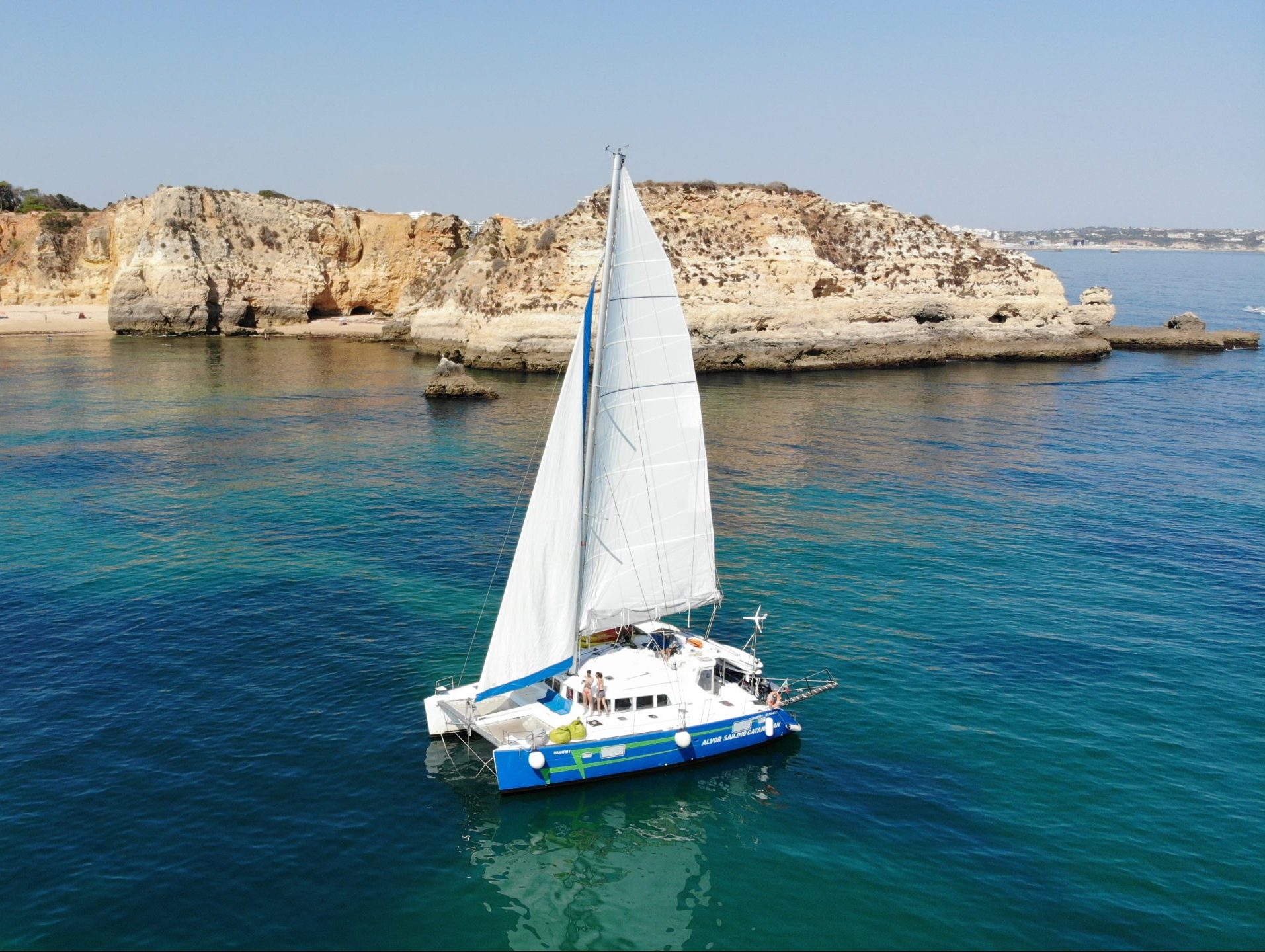 ALVOR
Alvor Sailing Catamaran
ALVOR SAILING
O nosso Catamaran e Lanchas Rápidas, disponíveis para lhe proporcionar passeios inesquecíveis.
Equipa profissional e experiente, para garantirmos a sua segurança em toda a duração do seu passeio.
Diferentes passeios para todos! Desde passeios ao pôr-do-sol às grutas mais famosas da região do Algarve.
ALVOLSAILING
RESERVE JÁ O SEU LUGAR!
OS NOSSOS PASSEIOS
REVIEWS
O QUE DIZEM SOBRE NÓS
This is a definite if you go to Alvor, the Adventure cruise is brilliant, all the family loved it. We sailed along the coast, had an hour kayaking, got to go into the caves, we also went swimming off the catamaran. It was so relaxing and great value for money. I think the staff make it though, they are really welcoming and friendly, lovely people.
We chose the catamaran tour to the caves because of the children, 6 years and 10 months. Life Jacket is of course the skipper attentive, prudent and experience. An unforgettable experience for our big one and the little one was in a really good mood. We parents really enjoyed the ride too! Many thanks to the Alvor Sailing Team.
Would highly recommend to anyone staying in Alvor. Amazing 3-hour boat trip to caves, brilliant crew, clean catamaran (max of 18, so not crowded) and excellent service - you even get a complimentary drink and snack! Much better value than many similar tours. Highly recomended and great fun.
The best way to discover and truly appreciate the Alvor and Lagos coastline. Wonderful crew and exceptional vessel. Thank you so much for the excellent experience.
Had a really wonderful trip with Alvor Sailing Catamaran. I would absolutely recommend this trip. It is great value for money, and a wonderful experience. The crew looked after my parents so well. They were so helpful. The cave visit was truly magnificent and I will never forget swimming in the sea off the boat.